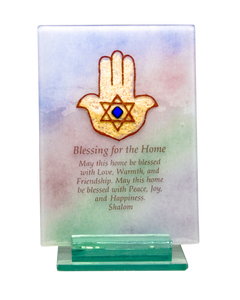 Beames
Stand Alone Hamsa Home Blessing
This is one of our  "Stand Alones"; free-standing pieces with meaningful phrases.  The Hamsa Blessing for the home is a dazzling gold Hamsa surrounded by a rainbow of colors fused into the glass.  
Other Stand Alones available: Dove Home Blessing, I am my Beloved's and my Beloved is mine, Woman of Valor, The Healer's Prayer, Tree of Life or Tikkun Olam
5" x 7" plaque, 3"x 4" base
Lovingly handmade in New York's beautiful Hudson Valley.  We do try to keep everything in stock,  but because we are a very small handmade company, we sometimes need to make the piece you ordered.  Please allow 1-2 weeks plus shipping time.
.
---
More from this collection