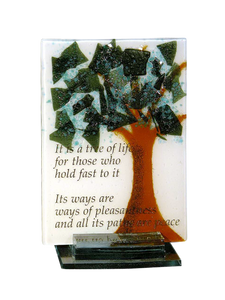 Beames
Stand Alone Tree of Life
This is one of our  "Stand Alones"; free-standing pieces with meaningful phrases.  "It is a tree of life for those who hold fast to it.  Its ways are ways of pleasantness and all its paths are peace" is fused into the glass surrounded by the tree motif.  
Other Stand Alones available: I am my Beloved's and my Beloved is mine, Woman of Valor, The Healer's Prayer, Tikkun Olam, Dove or Hamsa Home Blessing.
5" x 7" plaque glued into the 3"x 4" handmade clear glass base
Lovingly handmade in New York's beautiful Hudson Valley.  We do try to keep everything in stock,  but because we are a very small handmade company, we sometimes need to make the piece you ordered.  Please allow 1-2 weeks plus shipping time.
---
More from this collection