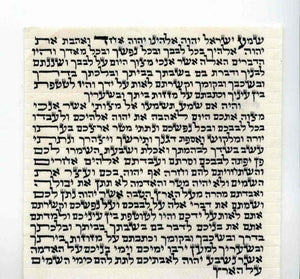 Beames
Kosher Mezuzah Scroll
100% Kosher, hand-written scroll containing the Hear oh Israel passage from Deuteronomy (Deut. 6:4-6:9).) It is the affixing of this scroll to your doorpost that satisfies the mitzvah of the mezuzah. Fits easily into any of our beautiful mezuzah cases.
A Kosher Mezuzah Scroll is made from parchment from a kosher animal and is inscribed in black ink using a special quill.  They are written by specially trained scribes in Israel.
The 6 cm scroll fits our smaller pewter and wood-based mezuzot.  The 7 cm is for our larger and wedding shards mezuzot.
---
More from this collection